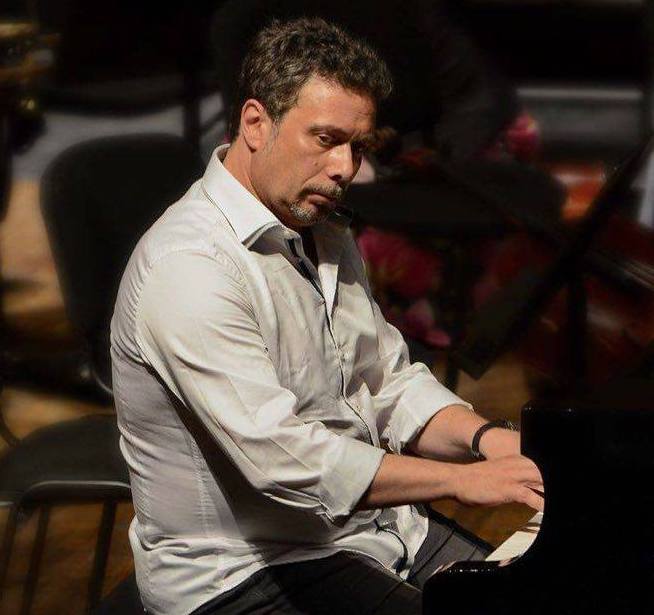 He was born in Rome where he studied at the Conservatorio di Musica S. Cecilia, graduating with top marks.
He then studied with Massimiliano Damerini, Oleg Malov (at the Rimskij-Korsakov Conservatory of St. Petersburg), Riccardo Brengola (at the Chigiana Academy of Siena), Sergio Perticaroli and Felix Ayo (at the Accademia Nazionale di S. Cecilia in Rome), receiving important awards everywhere.
He plays solo and chamber music performing in prestigious national and international seasons. He has recently performed in the second concert for piano and orchestra by Sergei Rachmaninov with the "Sophia Symphonic" and the conductor Ljubka Biagioni at the "Tiroler Festspiele" in Erl (Austria), in the presence of Maestro Gustav Kuhn who invited him to next year's edition again.
He is Répétiteur at the courses of the Accademia Musicale Chigiana in Siena and at the Higher Specialization courses of the Accademia Nazionale di Santa Cecilia in Rome, in the classes of Massimo Paris, Giovanni Sollima and Alessandro Carbonare.
Since 1998 he has collaborated with the Orchestra dell'Accademia Nazionale di S. Cecilia under the baton of conductors like Myung Whun Chung, Antonio Pappano, Peter Eotvos, Lorin Maazel, Juraj Valchua, John Fiore, Dmitri Iurowski, Andreas Orozco – Estrada etc., with the Choir dell'Accademia Nazionale di S. Cecilia, with conductors such as Filippo Maria Bressan, Roberto Gabbiani, Norbert Balatsch and Ciro Visco.
He collaborates with important ensembles including the "Percussionisti dell'Accademia Nazionale S. Cecilia", the "PianoFortissimoPercussionEnsemble", the "Solisti della Scala" and the "Quartetto della Scala". In duo he plays with Simonide Braconi, first viola of the Teatro "Alla Scala" in Milan, Alessandro Carbonare, principal clarinet of the Orchestra dell'Accademia Nazionale di S. Cecilia in Rome.
Among the various recordings, the most recent are worth mentioning: a cd for Decca performing with the clarinetist Alessandro Carbonare, released in 2009 and one for "Amadeus", performing with his brother Simonide. It was dedicated to the Johannes Brahms works for viola and piano and it was released in March 2010. Another recording was a 2015 dvd with music from the twentieth century. The title was "Playing Portraits" and it was played in violin – clarinet – piano trio with Elisa Papandrea and Alessandro Carbonare, recorded at the Museum of Contemporary Art in Rome; soon two CDs will be released and will be dedicated to fantasies for piano on the works of Giacomo Puccini, which will be followed by a CD on fantasies for piano taken from works by Giuseppe Verdi.
He teaches piano at the "L. Perosi " in Campobasso.