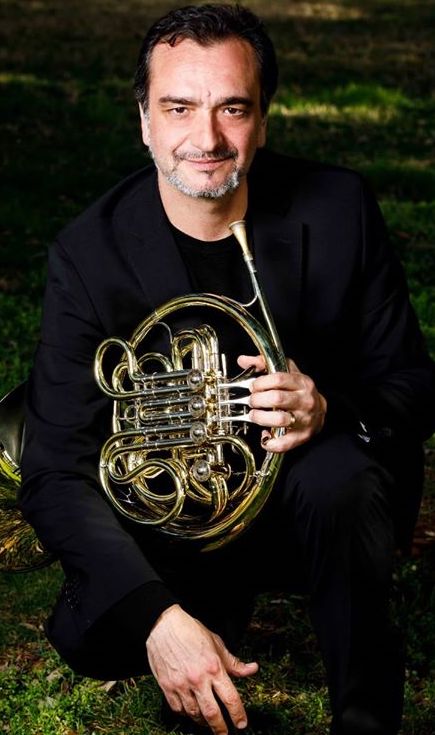 He is principal horn soloist at the Orchestra Nazionale di Santa Cecilia, the Lucerne Festival Orchestra and the Mozart Orchestra founded by M° Claudio Abbado.
At the age of 23, M° Riccardo Muti selected him as principal horn soloist at the Teatro Alla Scala in Milan. He was principal horn soloist guest in prestigious international orchestras including: the Berliner Philarmoniker, Bayerischer Rundfunk Orchester and Mahler Chamber Orchestra.
Winner of important international awards and prizes, including the Prague Spring Competition and the A.R.D. from Munich, he performed solo concerts under the baton of illustrious maestros such as: Abbado, Muti, Chung, Tate and Pappano.
His intense chamber music activity saw him alongside exceptional musicians such as Salvatore Accardo, Ian Bostridge and Antonio Pappano himself, with whom he recently performed the European premiere of Eliott Carter's Concerto for horn, at the Auditoriom Parco della Musica in Rome.
As a lecturer he is often invited to hold masters classes in distinguished European academies and universities, including the Royal Academy of Music, the Royal College, the Guildhall School of London, the Birmingham Conservatory, as well as prestigious universities of Latin America and Japan.
His social commitment sees him present in various parts of the world in support of projects aimed at improving societies through music education: he offers his contribution to the "Simòn Bolivar" Juvenil Orchestra in Venezuela; he is President of the Eleuthera Cultural Association that gave birth to the Human Rights Orchestra; he also collaborates with the sociologist Shizuo Matsumoto in an exchange project between Japanese and Italian culture, with Ramzi Aberdwan, a Palestinian musician who experienced the brutalities of the first Intifada and with Emergency.
In 2006 he received the "Premio Nazionale la casa delle Arti" from Fondazione Exodus di Don Mazzi in Italy. He was awarded for having been able to combine professional commitment and lifestyle.
Soon, there will be the release of the complete Mozart concertos for horn and orchestra in a live recording with the Mozart Orchestra, conducted by Claudio Abbado.