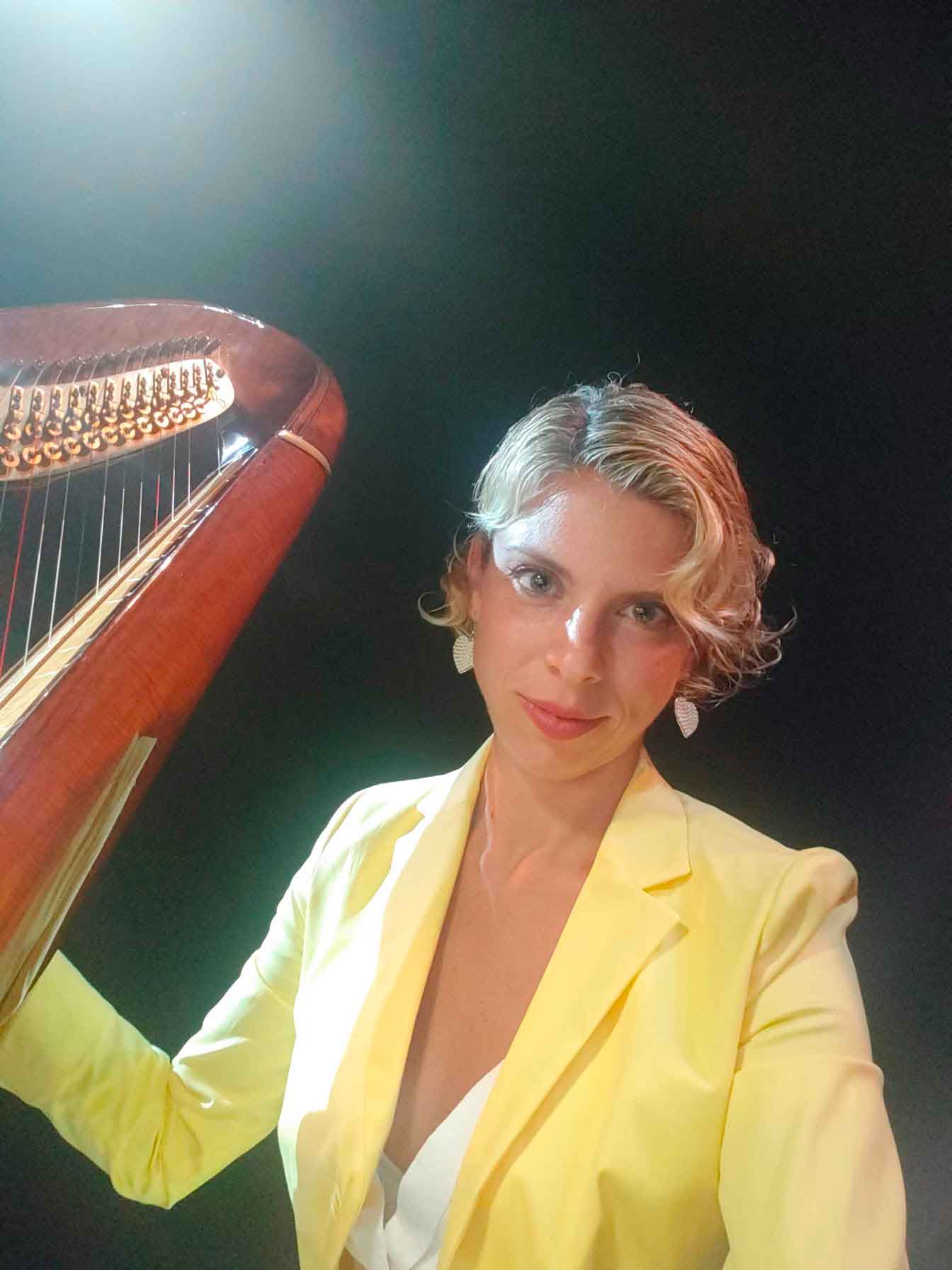 Born in Como on 3 August 1983. In 1992 she began her musical studies with Lisetta Rossi and Emanuela Degli Esposti, with whom she brilliantly graduated from the "A. Boito"of Parma.
She obtained her Bachelor's Degree in Concert from the Zurcher Hochschule der Kunste, (University of Music and the Arts of Zurich), in the class of Catherine Michel. (First solo harp of the Paris Opera).
She attended the master classes of J. Liber, D. Watkins, I. Jones, F. Pierre, Xavier De Maistre, Luisa Prandina. Winner of numerous competitions such as: "Ottocento Festival" in Saludecio (Rimini), "F. Schubert "in Tagliolo Monferrato," Victor Salvi" in Saluzzo, "Cà Bianca Classic" in Milan (thanks to which she had the opportunity to record a CD together with the other winners), "Città di Busalla" in Genoa, "Rovere d'Oro" in San Bartolomeo a mare (Imperia).
In November 2007 she won the audition for the Gustav Mahler Jugendorchester conducted by Claudio Abbado, with whom she participated in the 2008 summer tour led by M° Sir Colin Davis.
In 2008 she won the audition for the first harp of the Luigi Cherubini Youth Orchestra conducted by Maestro Riccardo Muti.
She is the winner of the audition for harp at the Teatro Lirico of Cagliari and the Teatro del Maggio Musicale Fiorentino. She played with orchestras such as those of the Teatro and Filarmonica alla Scala, the Rai National Symphony Orchestra, the Teatro dell'Opera di Roma, the Teatro Lirico di Cagliari, with conductors such as R. Muti, C. Abbado, Z. Metha , D. Barenboim, J. Conlon, D. Oren, V. Fedoseyev, J. Valcuha, D. Gatti, F. Luisi, P. Steinberg, Z. Pesko, C. Dutoit, W. Marshall, J. Kovachev.
She is also eligible for playing at the Orchestra della Fenice in Venice, at the Verona Arena and at the Teatro Massimo in Palermo.
In November 2008 she ranked second in being eligible for the International Harp Competition for the Orchestra del Teatro Carlo Felice in Genoa.
She is currently principal harp at the Puccini Festival in Torre del Lago, and, since 2010, she has collaborated with the Orchestra of the Teatro del Maggio Musicale Fiorentino as second and first harp.
In addition to her orchestral activity, she combines an intense solo and chamber music activity in Italy and abroad.