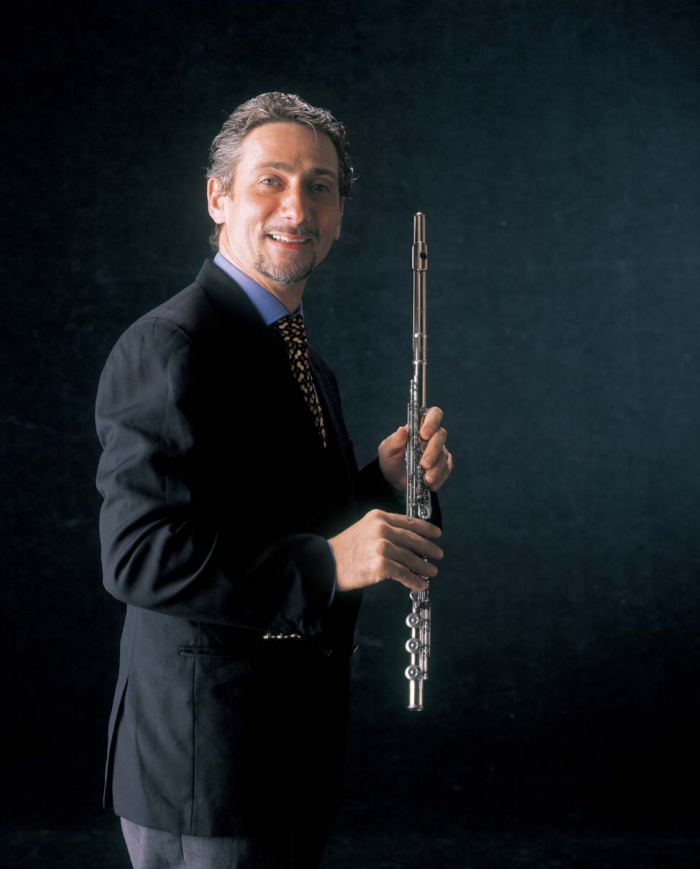 Born in Cremona, his organist father initiated him to musical studies at an early age. He then began studying the flute at the "C. Monteverdi" Civic School of Music and graduated in 1985 with top marks at the Conservatory "G.B.Martini" in Bologna under the guidance of Prof. A.M.Morini. Later he studied with M° G.Cambursano (principal flute of the Orchestra del Teatro alla Scala in Milan), M° A.Adorjan, M° C. Klemm, M° A.Marion, M° A.Danesin.
He was the winner of several national and international competitions and in 1984 he was eligible for the formation of the European Orchestra.
In 1987 he won a European scholarship of Professional Training Courses for Orchestra at the Scuola di Alto Perfezionamento Musicale in Saluzzo.
Here he had the chance to know M° S. Celibidache and this was crucial for his career. He attended the phenomenology of music and orchestra conducting course held by the said maestro.
He performed solo activity in major concert halls and in 1988 he won the public competition, open to all citizens of the European Community, for the role of Principal Flutist at the Orchestra of the Teatro dell'Opera in Rome.
Since 1998 he has collaborated and recorded with Salvatore Accardo, as a member of the Orchestra da Camera Italiana. He collaborates, again as principal flute, with the Filarmonica della Scala orchestra, the Orchestra Nazionale di S.Cecilia, the Orchestra da Camera of Mantua, I Virtuosi di S.Cecilia, the Polimnia Ensemble, under the baton of conductors like R.Muti, A.Gergiev, G.Bertini, W. Sawallisch, MWChung, Y.Temirkanov, E. Morricone. He recorded plenty of film soundtracks for various publishing houses.
He is also founder of the "Quintetto di fiati del Teatro dell'Opera di Roma" and the "Opera Ensemble". He has participated in numerous Festivals in Italy and abroad with the said formations.
Carlo Enrico Macalli plays a Pearl flute with 14k solid gold body and silver mechanics.