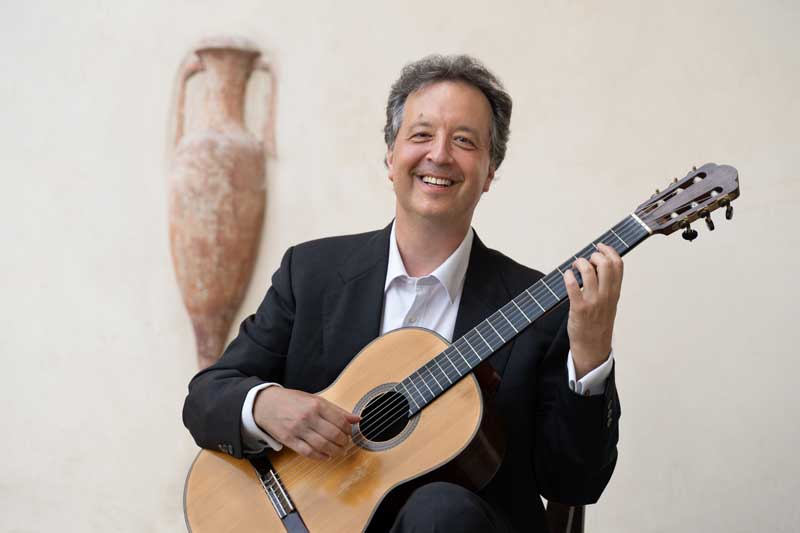 A musician of immense promise
Guitarist Emanuele Segre has performed concerts in New York, Los Angeles, Boston, San Francisco, Paris, London, Amsterdam, Vienna, Salzburg, Prague, Berlin, Tel Aviv, Rio de Janeiro, Madrid, Rome, Istanbul, Warsaw, Seoul, Tokyo.
In his American debut he was defined as "a musician of immense promise" (The Washington Post). As a soloist, he played with Yuri Bashmet and the Moscow Soloists, then with the English Chamber Orchestra under the baton of Salvatore Accardo. He also performed with the Rotterdam Philharmonic Orchestra, the Zagreb Soloists, the European Community Chamber Orchestra, the Slovak Chamber Orchestra and the Süddeutsches Kammerorkester. He collaborated with the orchestra of the Teatro alla Scala in Milan and played in a duo with Patrick Gallois.
He was invited to participate in prestigious international festivals such as that of Marlboro (USA), that of Bratislava (Czechoslovakia), of Stresa and MITO Settembre Musica (Italy), the "Semaines Musicales de Tours" and the "Festival de Radio France et de Montpellier "(France), the Bregenz Festival (Austria).
He won numerous competitions, including, in 1987 in New York, the East & West Artists Prize which gave him his debut at the Carnegie Recital Hall and the Pro Musicis International Award. In 1989 he was selected for the International Rostrum of Young Performers by UNESCO.
Jean Françaix dedicated his concert for guitar and orchestra to him, a concert that he also recorded for the record company WERGO. Segre recorded various other CDs for DELOS, CLAVES, AMADEUS and other record labels.
Born in 1965, he studied with Ruggero Chiesa at the Milan Conservatory, where he graduated with top marks, subsequently following master classes with Julian Bream and John Williams.
He also studied violin and composition.