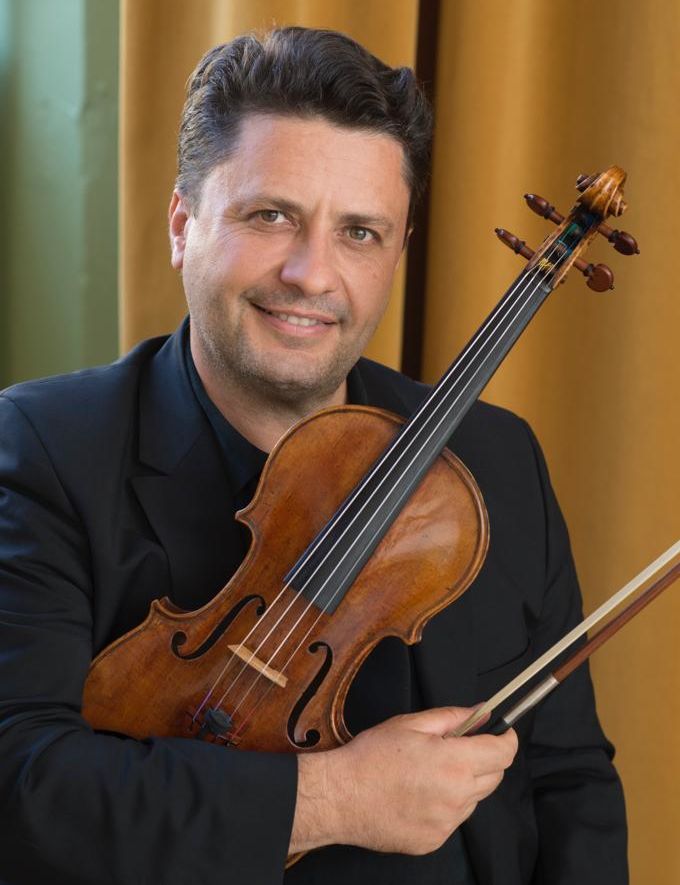 Klaidi Sahatçi was born in Tirana. He began his violin studies at the age of six in his hometown, where he attended the "J.Misja" Art School. In 1992 he moved to Italy to enrich his musical knowledge and in 1994 he obtained the violin diploma with top marks, under the guidance of M° Gigino Maestri at the "G. Verdi" Conservatory in Milan. He later perfected with M° Salvatore Accardo at the "W. Stauffer" in Cremona and with M° Boris Garlitzky in Lyon.
Klaidi Sahatçi made his debut as a very young soloist with the Symphony Orchestra of the Italian Radio Television in Milan, achieving great success, thus starting a career that has always been on the rise. As a soloist he also played with important orchestras including: the Tonhalle Orchester Zürich, the Orchestra della Svizzera Italiana, the Orchester National de Lyon, the Zürcher Kammerorchester, I Virtuosi Italiani, Cameristi della Scala, Orquesta Sinfonica de Chile etc.
He cooperated with conductors such as: D.Zinman, A.Lombard, H.Griffiths, M.Nesterowitz, G.Herbig, L.Bringuier, G.Antonini etc.
He carried out an intense concert activity in chamber ensembles for important seasons such as: Lugano Festival, Meisterzyclus Zürich, Concert Season at the Teatro Grande in Brescia, Salle Molière in Lyon, Kammermusik in Tonhalle Zürich, Ohri Festival in Macedonia, Different Trains and Pianodrom in Albania, Società dei Concerti, Società del Giardino and Teatro alla Scala in Milan.
In the chamber music sector, he cooperated with performers such as: Bruno Canino, Bruno Giuranna, Rafael Oleg, Dimitri Sitkovetski, Julian Rachlin, Fazil Say, François-Frederic Guy, Yuja Wang, Anna Kravtchenko etc .
Together with Andrea Rebaudengo and Sandro Laffranchini, he founded the Altus Trio. In 2010 he made his debut with the trio at the Teatro alla Scala in Milan. In the last CDs, the trio played music by Bernstein, Gershwin, Stravinsky, Schumann and Donizzetti and they were recorded and distributed by Limen Music Milano.
In 2013 together with the Albanian pianist Dh.Lazo he recorded and produced the CD "Albanian Memories" dedicated to his country of origin. In 2016 together with Giorgio Koukl he recorded a cd for the Naxos label, entirely dedicated to Alexander Tansman's music for violin and piano.
1995- 2001 In the orchestral field he won several international competitions covering the role of Violon Solo at the Orchester National de Lyon.
2001 -2004 Substitute for principal violin at the Orchestra of Italian-speaking Switzerland.
2004-2007 Concertmaster at the Zürcher Kammerorchester.
2007-2009 Concertmaster at the Orchestra of the Teatro alla Scala in Milan and Filarmonica della Scala.
Since 2009 he has been concertmaster at the Tonhalle Orchester Zürich and professor of violin at the University of the Conservatory of Italian Switzerland.
His teaching activity, in addition to the Lugano Conservatory, is mainly carried out by giving frequent master classes in Italy, France, Albania, Spain, Poland and Switzerland.
Klaidi Sahatci plays the Antonio Stradivari violin "Wieniawsky, Bower" 1719 from Benz-Mercedes Zurich.