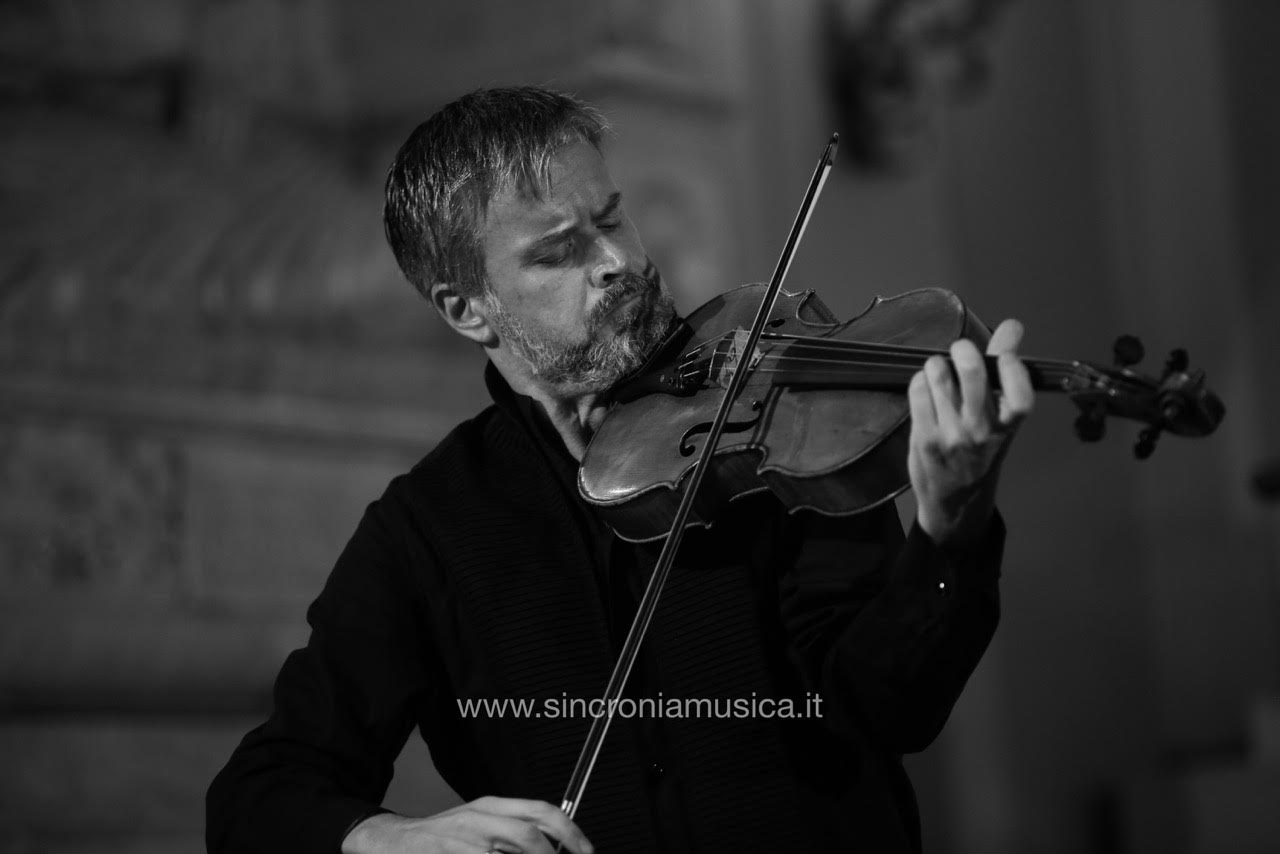 Born in Rome, he graduated with top marks at the Conservatory of "S.Cecilia" in Rome and subsequently from the "Music Hochschule" of Freiburg in Germany (with honour mention), studying respectively with M° S. Esposito and M° K. Kashkashian.
He studied under B. Giuranna ( "W. Stauffer" Academy in Cremona) and J. Bashmet ( Chigiana Academy in Siena, certificate of merit in 1991 and 1992).
He has been awarded at several international competitions (including "Cologne" and the "Lionel Tertis" competition in England).
Principal viola in the Orchester des jeunes de la Mediterranèe, member of the orchestra of the European Community, he collaborated as principal viola with the orchestra of the Accademia di S. Cecilia in Rome and in 1994, at just 22 years old, he was selected by M° Riccardo Muti to cover the above role in the orchestra of the Teatro alla Scala in Milan.
As a soloist and in chamber music he recorded for Vigiesse, Thymallus, Rhona, Stradivarius, Agorà, Tudor, DAD, Velut Luna, Dynamic and Decca as well as for Radio 3, RAI Radiotelevisione italiana, Rete 4, Sky Classica and for the magazines CD Classica, Suonare news, the Province of Cremona, Amadeus (integral of the Brahms Sonatas) and Brilliant (Concertos for viola by A. Rolla, CD awarded with 5 stars by Musica magazine).
In chamber music he collaborated with artists such as:  S. Accardo, M. Quarta, J. Rachlin, T. Brandis, M. Rizzi, A. Sitzkovesky, U. Ughi, I. Faust, P. Vernikov, D. Nordio, B Canino, J. Swann, I. Golan, B. Petruchanski, A. Lucchesini, G. Andaloro, P. Restani, R. Filippini, E. Dindo, N. Gutman, F. Petracchi, trio of Parma, Henschel Quartett, E. Pahud, Sonia Ganassi, Jose Carreras and as a soloist with conductors including W. Sawallisch and R. Muti.
Together with the other section leaders of the Orchestra del Teatro, he formed the Quartetto d'Archi della Scala, going on tours in the United States, South America, France, Germany, Japan and in the major concert companies in Italy.
Member of jury in several international competitions (including Geneva), he is regularly invited to hold courses in important institutions (Arts Academy in Rome, Festival delle città in Portogruaro, Gubbio festival, "T. Varga" Academy in Sion, Accademia Perosi in Biella , Accademia di Musica in Pinerolo).
He collaborated with several orchestras as a soloist. Some of the most important were the "G.Donizetti" Stable Orchestra of Bergamo, the "Accademia I Filarmonici" orchestra, the Orchestra Sinfonica Abruzzese, the Basque Symphony Orchestra, the Orchestra di Friuli. Venezia Giulia, the "G. Cantelli" orchestra, the United Europe Chamber Orchestra, the Baden Badener Orchestra, the Petruzzelli Ensemble, I Filarmonici di Torino, the Lubiana Symphonic, i Solisti Aquilani, i Solisti di Pavia, Extremadura Orquesta, Orchestra Haydn di Bolzano, the Val D'Aosta Symphonic, the Gran Canarie Symphonic Orchestra, Sofia Philarmonic Orchestra.
He successfully performed P. Hindemith's kammermusik N. 5 (Concert for viola) with the La Scala Philharmonic Orchestra under the baton of MW Sawallisch and the Mozart's Sinfonia Concertante conducted by M° R. Muti with the Orchestra Sinfonica Cherubini.
He is currently a teacher at the Milano Music Master. He is also soloist with viola d'amore; as a composer he has published several works for the publishing houses MAP and SONZOGNO.
He plays a G. Gagliano viola (1800) from the Pro Canale Onlus Foundation in Milan.