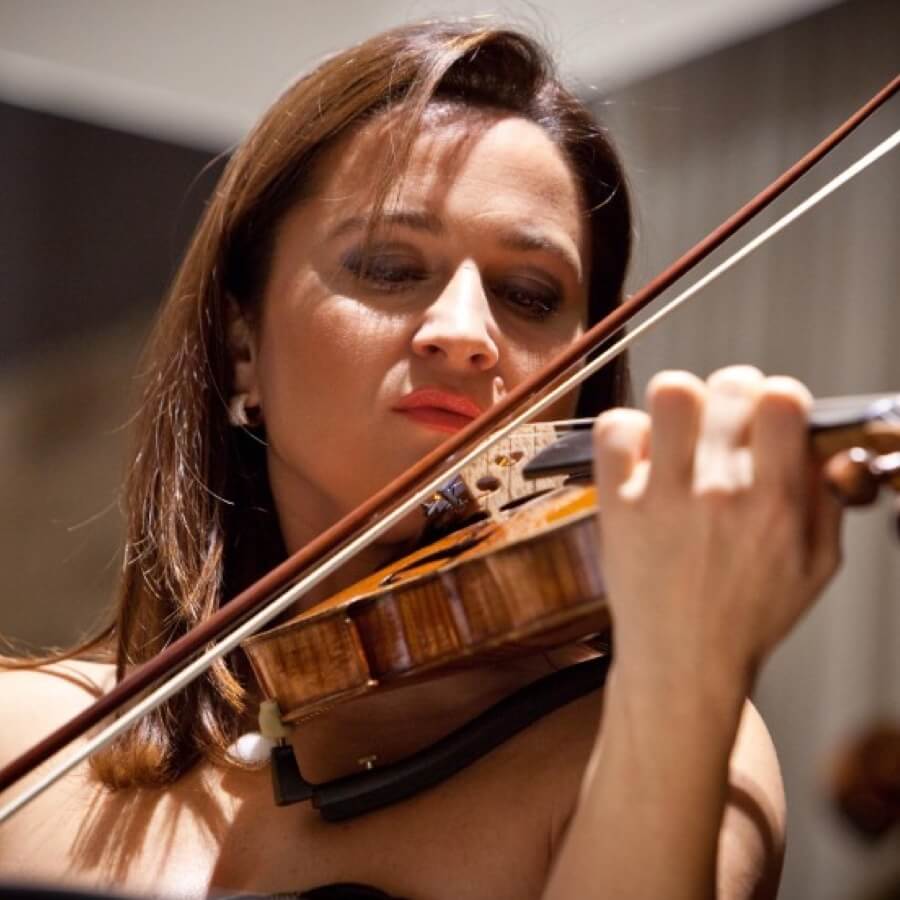 Barbara Agostinelli showed a precocious passion for the violin and this led her to graduate with top marks at the "F. Morlacchi" Conservatory in Perugia in 1990. Here she was noticed by the conductor M° Giuliano Silveri, who invited her to participate in numerous concerts the same year in Italy and abroad. This allowed her to capture the attention of the audience and that of critics.
She stood out in various violin competitions including the Vittorio Veneto Competition and the "Città di Pavia" Chamber Music Competition, receiving the Special Prize for the best interpretation of the Romantic Sonata.
In Senigallia she won the scholarship "Un violino per sognare" (A violin to dream) which allowed her to study for a whole year with the Russian violinist Vadim Brodsky.
She enhanced her training again in 1993 at the Portogruaro International Course in the class of Pavel Vernikov and Zinaida Gilels, while she attended the School of Music of Fiesole of the concertmaster three-year course of M° Giulio Franzetti, a historic concertmaster of Teatro La Scala in Milan. Here she grew and improved her skills.
In the meantime, she continued performing solo and chamber concerts in both Italian and international theaters and festivals: from the "Marinsky Theater" in St. Petersburg to the "Schauspielhaus" in Berlin, from the Dresden "Staatsoper" to the Bratislava Festival, from the "Sydney Opera House" to "Nhk Hall" in Tokyo, from the Ravenna Festival to the Salzburg Festival.
In addition to being a section leader in important Italian orchestras, including the "Rossini Orchestra" of Pesaro, she held concerts with historic ensembles such as the "Virtuosi Italiani" and the "Solisti Aquilani". She recorded some cycles of contemporary music concerts with them. The cycles were called "New Consonance" and were recorded for Radio Rai Tre.
In 1996 she was a finalist of the Competition at the Orchestra of the Accademia di Santa Cecilia. In 1997 she won the Competition at the Orchestra of the Teatro dell'Opera in Rome, where she currently works as a tenured Professor.
Working in the Opera sector gave her the opportunity to meet and play together with internationally renowned personalities and artists: Riccardo Muti, Franco Zeffirelli, Placido Domingo, Luciano Pavarotti, Daniel Oren, Salvatore Accardo, Misha Maisky, Siegfried Palm, Uto Ughi, Felix Ajo, Yuri Aronovich, Carla Fracci, James Conlon, Roberto Bolle, Nicola Piovani, Ennio Morricone, Daniele Gatti.
In 2012 she recorded a beautiful CD together with Pavel Vernikov and the wind quintet of the Rome Opera at the Rudolfinum Prague.
She is Artistic Director at the Scuola di Alto Perfezionamento Sincronìa – Musica Arte Bellezza.
She plays a Tomaso Balestrieri violin from 1772.